Do you Remember the Lamborghini Gallardo LP 560-4 Polizia, which is an Italian manufacturer donated to the Italian police?
Since Gallardo replaced by a new model, Huracan LO 610-4, Lamborghini has decided to upgrade and Italian police and gift them a special version for them.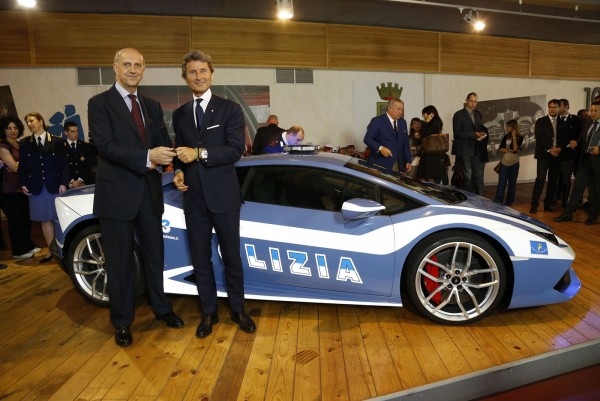 The new car will replace the Gallardo models used by the Italian police since 2004.
Special vehicle is handed Stephan Winkelmann, President and Director of Automobile Lamborghini, the Italian police top brass Alessandro Pansa, at a ceremony in Rome's "Museo delle Auto Storiche della Polizia di Stato".
New Huracan will be the pride and joy of Italian Police, who will start using it later this year. Lucky to have the opportunity to be in the vehicle, will no doubt appreciate the extra power provided by the 5.2 V10 engine when compared to the Gallardo. This gives the car on 602hp, which is more than about Gallardo 50hp.
Theoretically, acceleration to 100 km / h is 3.2 seconds, and top speed is 325km / h.(200mph)