At the Motor Show in Chicago interesting premiere had an Alfa Romeo. The famous Italian manufacturer presented a new version of a small roadster, the Alfa Romeo 4C Spider Italia edition.
For 4C Spider Italia, Alfa Romeo has invented the exclusive color Misano Blue Metallic, which is not available in any of the other variants of the model.
There is no change in the engine, 4C Spider launches yet centrally built 1.75-liter four-cylinder turbo-gasoline with 237 hp and 350 Nm.
Coupled to a six-speed automatic dual-clutch transmission and the rear axle drive. Weighing only 1,130 kilograms, AR 4C Spider Italia accelerates 0-60 mph in 4.1 seconds with a top speed of 159 mph.
This limited version 4C costs 5,000 US dollars more than Spider MSRP, so its owner can become for 71,900 US dollars.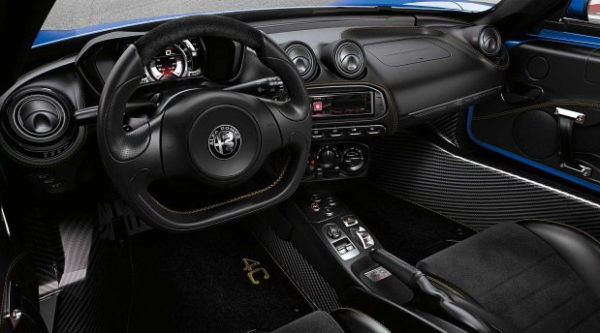 Alfa Romeo is not satisfied with sales of 4C in the United States, during 2018 was delivered only 238 units and in the first month of this year only 7 units.
However, the 4C will experience in 2020 in the US, but Alfa still limited the Spider Italia series to only 15 units manually made in Modena.