BMW Abu Dhabi in its salon exhibits the BMW M4 with striking Yas Marina Blue color and AC Schnitzer tuning package.
AC Schnitzer body kit in carbon fiber (front spoiler, rear diffuser, spoiler on the trunk) fits perfectly with a roof of carbon fiber, and there are also AC Schnitzer alloy wheels of 20 inches, Manhart Performance air intake on the hood, front ' kidneys "in body color, a modified suspension, black leather seats, as well as improved engine.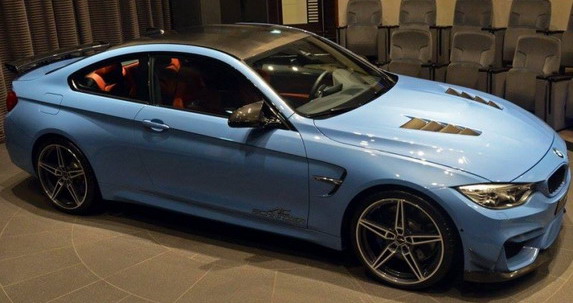 For the propulsion care 3.0 liter six-cylinder engine, has 431 HP and 406 lb ft but is enhanced on 510 hp and 476 lb ft, while acceleration from 50 to 110 mph lasts 6.2 seconds (1.7 seconds faster than factory).