Bugatti Veyron out of fuel – poured from the balloons
The owner of the car Bugatti Veyron had the misfortune, that he has run out of fuel in this valuable and ultra-sporty model. The incident occurred in the capital and largest city of Lebanon – Beirut, and passers-by photographed.
Fuel indicator in the model of Bugatti Veyron is certainly a hyper-active, since it runs W16 engine capacity of 8.0 liters, equipped with four turbochargers, which develops maximum power of more than 1,000 horsepower. In this car, the driver must often looking at fuel level, so as not to come into this situation.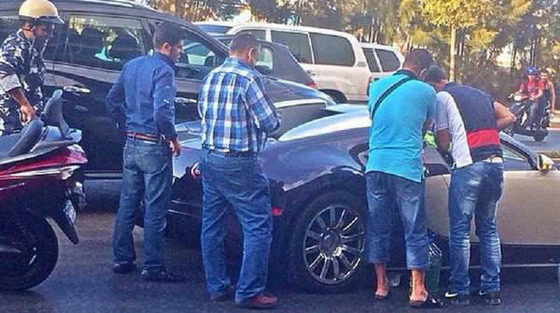 Veyron has to be stopped at a gas station eight times more than ordinary cars. Theoretically, if it were driving the 400 km / h, would spend entire the tank capacity of 100 liters (26.4 gallons)in just 15 minutes. Bugatti Veyron says that consumes 17 liters (13.8 mpg)on the open road, and 29 l / 100 km (8.2 mpg US) in urban conditions. When driving at maximum speed, Veyron consumes 78 liters / 100 km, (3mpg) or 5.3 liters (44.5 mpg) per minute.