When we hear for a car accident involving a some supercar we expect that it comes to an accident at high speeds. And when it becomes known that there are no injured then comes unfortunately for another destroyed beautiful cars.
A bright red Chevrolet Camaro Z/28 was completely destroyed in the accident that occurred in the US state of Florida. Not much is known about the details of the accident but it was confirmed that in the car they were driver and passenger, and that are both survived the accident.
According to the figure it is clear that the car at high speed hit the side face in the wood. Firefighters who arrived at place of accident they had to cutting a roof to remove the passengers. Enormous damage was caused to the front of the car so the question is whether it will be cost-effective repair and possible at all.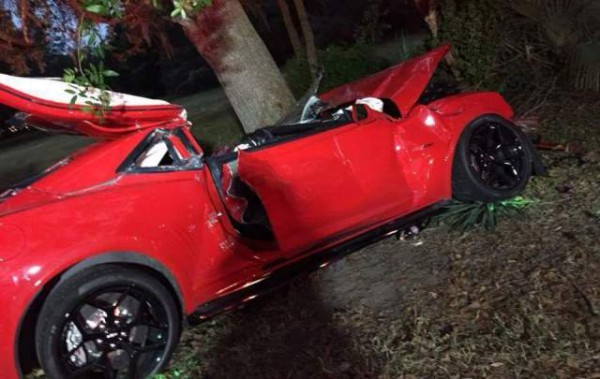 Let us remind that "Chevrolet Camaro Z / 28" has a V8 engine volume 7.0 liters, which gives him 500 horse power.. In order to safely stop Chevrolet is in this model incorporated a completely new "Brembo" brake of carbon fiber.