Tuning company SRT has processed the Dodge Viper, and more than ever to bring a large amount of racing technology on everyday road. Imposing aero kit brings an extreme look, and certainly the most visible on first oversized rear spoiler 1876 mm wide, and has from the German TÜV all necessary approvals for road use. The extreme form of complementing and others diffusers, air vents and the shape of the front bonnet. The overall impression is rounded off an impressive optional lateral aerodynamic reinforcements. Gross weight is something more than a ton. With aero-kit is now the highest speed of the Viper 178 mph.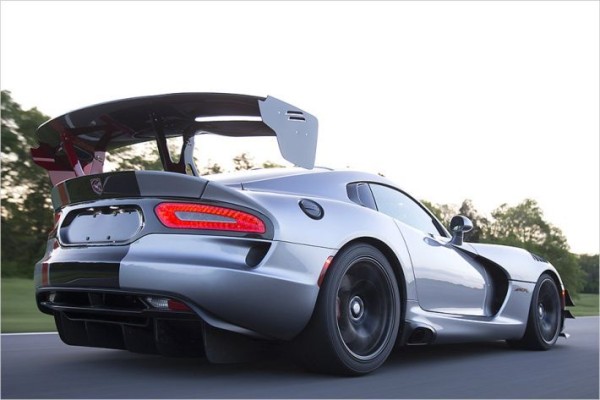 Dodge Viper ACR launches a major american 8.4 V10 engine maximum power of 654 hp and maximum torque 600 lb-ft of torque. For transferring power and torque to the rear wheels are used manual transmission with six gears. The exhaust system is specially designed and pipe it ends behind the rear wheels. On the 19 inch lightweight wheels are tires Kumho, front 295 and rear brake 355.
For braking are used the Brembo carbon ceramic front disc diameter of 390 mm and 360 mm rear. Shock absorbers are a sports-type brand Bilstein. Weight distribution between the front and rear axle is 50:50.