Back in April, appeared the first photos of camouflaged prototypes of the new Mustang, which even the wheels were covered, standing in the crowd, and now there have been new photos, can be the same vehicle as moving Santa Monica, California, and is believed to be is a new version of the Shelby model …
There's a lot of speculation about how it will be called a new model of which will handle SVT badge, to Shelby GT350 or GT500 – but for now we will keep it that name will be GT500 because it has the most sources say so.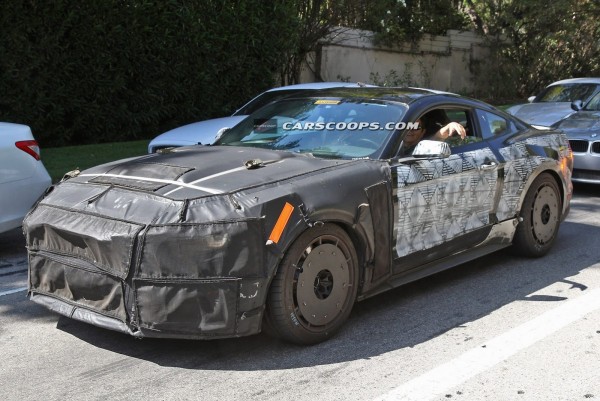 What is noticeable is the intake on the hood, which can be seen under camouflage, Michelin Pilot Super Sport tires, rear diffuser and exhaust, and possible additional intakes behind the front wheels.
According to the story, the photographer who made these pictures, said they saw the instrument panel and tachometer with a red line at 6500 rpm and the last mark of the 7000 revolution, which leads to the expected 5.8 V8 with 662hp. It is expected that if you keep the Mustang engine, that will further strengthen and go beyond the 600 + hp 2015 Dodge Challenger SRT Hellcat model and 580hp Chevrolet Camaro ZL1.
In the pictures of the interior can be observed manual transmission and sport seats. We'll probably have to wait a minimum of one year in order to see the presentation of the sixth-generation Mustang.