The tuner Prior Design has previously announced basic details about their PD800GT wide body package for Mercedes-AMG GT S, but in the meantime package is refreshed also and the new alloy wheels.
Aero body kit is designed to give the two-seater a more aggressive appearance, and for it is concerned the new front spoiler, frames vents, side skirts, fender extensions, hood with air intakes, rear diffuser and striking rear spoiler.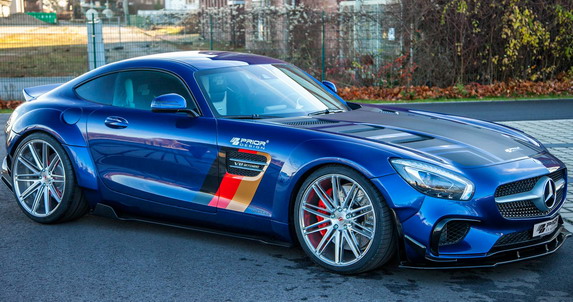 Also in the package are the wheels Vossen VPS-307, as well as the decoration on the sides in the colors of the German flag.
The car has a 4.0 liter twin-turbo V8 engine for which it is not known whether it is amplified (by factory has 510 HP and 650 Nm – 479 lb ft, enough to accelerate to 100 (0-60mph in 3.8 seconds and a maximum of 310 km / h – 192 mph) .