Police have released a video showing the pursuit of 35 yearly felon who was waving with a gun in public and stole three vehicles and fired at the police …
Sees the black Camaro that runs away from the police, and that looks like it has already suffered a number of attacks, you'll notice as soon as the police car approached enough.
After several traffic lights, a police officer hitting the car offenders, in an attempt to immobilize him, it was a risk when you take into account the number of people on the street at that moment.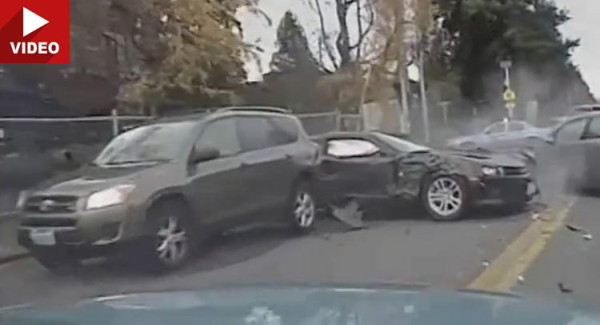 Pursuit continued, and in the attack worst passed a policeman, who was so damaged that it can not continue for the him. Fortunately transferred to all at other police car and you can see that the Camaro quickly runs through the town, and then is heard over the radio that shots were fired.
The second collision that stopped offender was involved and civil, but she fortunately quickly running out of her car RAV4 and run away. Police, covered her face in the video.
Camaro trying 180-degree movement, that for a bit and succeeds and it can be seen from another angle, at the end of the recording. It can be seen that the police opened fire on the Camaro and here is ending pursuit.