Sight of the newlyweds and wedding guests which after leaving the wedding ceremony in front of St. Paul's in London, greets a drift of Ford Mustang, that you don't see every day.
No, it's not eccentric bridegroom, lover of sports cars, who wants the wedding celebration in their own way, but is the recording of one of the new episode of Top Gear.
If you have not yet recognized, it is a classic modified Mustang V8, behind the wheel is a professional stunt driver Ken Block, while in the passenger seat is the American actor and one of the new leader of the famous car show program, Matt LeBlanc.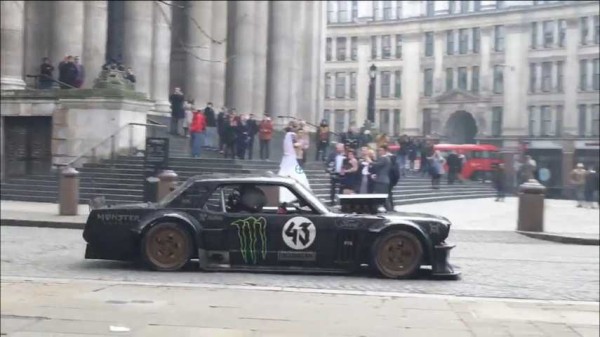 Shooting in the heart of London attracted a number of automotive fans, and one of them put it on Twitter a few video clips, which show Ken Block and LeBlanc.
However, not everyone was thrilled to capture these scenes taking place in the old part of London. Many Britons were appalled by the sight of a sports car that leaves the tire tracks in the streets close to the cultural and historical monuments and buildings.
In the British media have raised a big fuss, but one of the host of Top Gear, Chris Evans, publicly apologized to residents of London in the name of LeBlanc and the entire team.