Ken Block and BJ Baldwin became heroes doing ridiculous stunts in the streets. With his Gymkhana and twitching series, They conquered the world. From Block drifting through the streets of Los Angeles and Dubai, the BJ crazy in his trophy truck through suburban Tacoma, WA, stunts get crazier every time. We saw the drifting, jumps and tricks of all kinds, but now Levi Lavallee led by the snow in Saint Paul.
In contrast to the recent Urban Assault San Diego's Baja Bug, Levi was in touch with the city before shenanigans. They had police blocking off the road to make sure that all went down safely. He even jumps over Ford Explorer patrol car.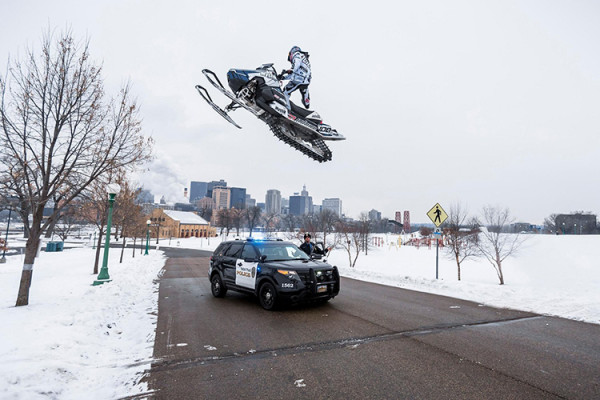 At 2:05 we even see him ride the range and get picked up at the top of the building. Of course, he decides to jump into the building soon after he ascended to it.
"As a kid, you're always looking at things like 'Oh, I could probably jump that," when you're driving through a city. To be able to actually go do that, it was like a fairy tale." Levi LaVallee told Redbull
Of course, we would call this one hell of an epic success. The only problem they went head to head with was when he burned the motor running down the asphalt. The snowmobile, snow helps to cool the engine. Without snow, you can easily get hot and hurt.
Be sure to check out the video below. It's hard not to appreciate how well it all comes together.