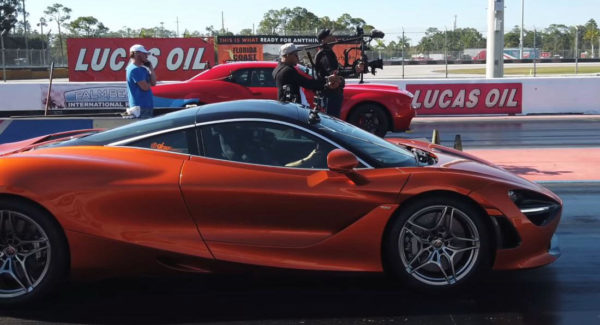 Certainly, if we look at the data black and white, The Dodge Demon should be slightly faster at a distance of a quarter mile, compared to factory McLaren 720S …
As they say from the Dodge, their most accelerated model can pass this distance for a very short time, or 9.65 seconds, while everything is fine with the world and driving conditions are optimal.
The 720S model, on the other hand, relies heavily on its aerodynamics, although it has quite a lot of power, and it is well known to us that the distance has crossed for less than ten seconds
Earlier this year, we saw two models racing one to the other from the moving start, and the Demon had trouble staying close to the McLaren 720S and its a power similar to that seen in hypercars.
Will the situation be different when the race starts from sleep? We find out in the video below.
First of all, we must note that Demon reaches its optimum speed very quickly. Even with a driver who moves before the traffic light turned green, we can conclude that the muscle is really a great American, like an Olympic runner who is just waiting to go.
Still, the numbers tell us a somewhat different story, just like the visual test, which shows us that McLaren is far better, eventually cross this distance in less than ten seconds. Demon simply was not efficient enough.
When these two models are racing, it is difficult to predict who will win because both have good and bad sides. In this case, it turns out that McLaren has more of the better than the bad moments, unlike the Dodge model. Still, maybe Dodge had a bad day. It should be checked again.