To stop already chaotic traffic in New York is not a good idea. If, in addition, to encounter extremely nervous drivers behind you, the incident becomes inevitable …
Youtuber Coby Person and his friends had a very bad idea. Namely, in the midst of one of the busiest streets of New York decided to park their gold BMW i8 and to shot some photos, probably in order to images could brag on social networks.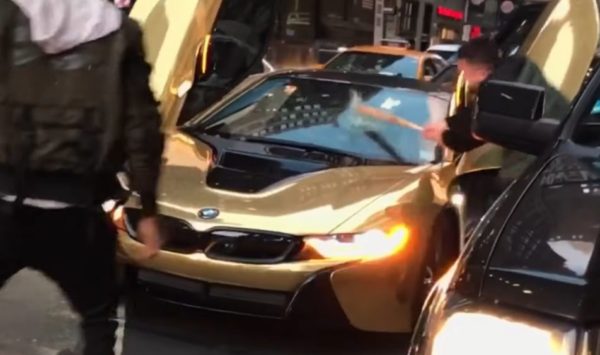 Behind them, however, were found impatient drivers who honked, but the guys are not even pay attention. At one point the driver behind them could not tolerate, and took the baton from the car and decided to break the windshield on the BMW. Although breaking of someone else's property is never a solution, we can still conclude that the guys themselves "looking for" trouble.
Of course, they immediately encountered the stories that the incident is false, however Person on his Facebook wrote that the incident was not furnished and offering a reward of one thousand dollars to the one who recognizes the man with the bat and help the police in his arrest …