On the eve of today's opening of suspension bridge Osmangazi, also known as the Gulf of Izmit, this morning, the Turkish professional motorcyclist Kenan Sofuoglu at the bridge, on his two-wheeler developed the incredible speed of 400 kilometers per hour
After received permission from the competent institution, Sofuoglu this morning in the new bridge raced on a motorcycle H2R and developed a speed of 400 kilometers per hour. The speed run was scheduled and executed at 5 AM due to weather conditions.
The current championship leader WorldSSP Sofuoglu also scored the highest speed ever achieved on a Kawasaki motorcycle H2R, as confirmed by the management of Kawasaki.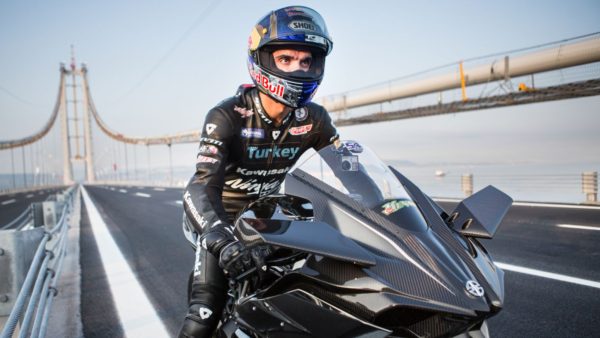 For Sofuoglu was needed less than 30 seconds to cross the bridge 1.5 kilometers long.
In a press statement, Sofuoglu said that for this feat was preparing the last four months and that he is happy because the bike that was developed for the 20 kilometers greater speed than earlier, a new record of this model of motorcycle.
"I do not think anyone will ever faster to drive across this bridge. Speed that I have developed is extremely high and 100 kilometers per hour higher than those that develop during the race. This was my dream. This dream I realized, now I'm going to achieve and one that applies to winning the fifth title of world champion, "said Sofuoglu.
The bridge is a part of the highway which is the largest road infrastructure project in the country's history. The road will ride from Istanbul to Izmir, which lasts 9.5 hours, reduced to only 3.5 hours. Also, thanks to the bridge, driving between points that are connected, which lasted two hours, now will last only four minutes.
Suspension Bridge between Gebze and Yalova has a medium range of 1,550 meters, the height of the supporting pillars of its is 252 meters, and the total length of the bridge is 2,682 meters, making it the fourth longest bridge of its kind in the world.
The construction of the bridge, whose foundation stone was set on 30 March 2013, lasted 39 months. This building many of us will remind of the bridge "Golden Gate", one of the symbols of San Francisco.