While we wait for the new generation of the Mercedes E63 AMG, tuning house Posaidon again dealt with its predecessor.
Specifically, in question is a Mercedes-AMG E63 4Matic sedan, whereby in a brief news states that the Posaidon 5.5-liter V8 biturbo engine in this sports sedan enhance up to 1020 hp and 1400 Nm of torque, making it one of the most powerful Mercedes cars registered for everyday traffic.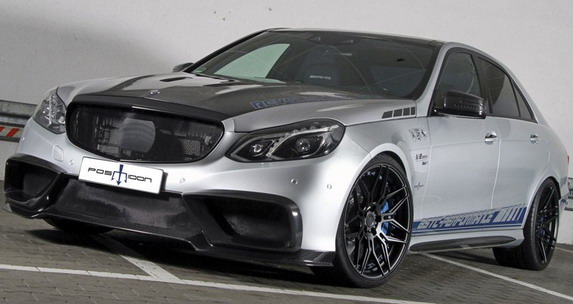 Posaidon states that are replaced the turbo chargers, and there are more efficient intercoolers, reprogrammed ECU, sports exhaust system …
Modifications have experienced and differential transmission, suspension, steering and brakes, and the front seats have been replaced by new.
Posaidon states that have used and carbon fiber (for the hood, front bumper, rear diffuser and spoiler, mirrors …), with the result of higher power and a reduced weight, that is seen in the acceleration from 0 to 60 miles per hour (now is 2.8 seconds) and top speed of 368 km / h (which due to the tire still limited to 350 km / h).